Much has been written in the popular press about the clinical significance of Modic changes – an MRI finding that has not previously been identified as having clinical importance. Furthermore, it has been demonstrated that many of these patients respond very favourably to long term antibiotic treatment compared to all other conventional treatments and the bacteria involved have also been identified. These findings represent a very large step forward in the diagnosis and treatment of chronic lower back pain the likes of which we have not experienced for many decades.
Case History
A consultation always begins with a "case history", which is a review of all matters relating to the issue at hand – which in these instances involves chronic lower back pain. An index of suspicion leading the clinician's thinking towards possible Modic changes includes;
The likelihood that a patient has experienced a disc herniation during the recent few years.
That conventional treatments have not been effective.
That there has been a "change" in their pain which has now become constant and more severe as opposed to activity related.
Patients usually describe their pain as "deep" and are able to pinpoint the spinal segments to a far greater degree that patients suffering from "normal" mechanical back pain.
Night pain.
Exercise and physical activity intolerance – usually the opposite in other patient groups.
Physical Findings
A traditional orthopaedic and neurological examination are of course standard procedure. What typifies Modic patients is;
An inability to bend forward – at all.
A marked decrease in movement in essentially all directions.
Pressure on the involved vertebra identifies THE pain – this is known as the springing test.
MRI Scans
Modic changes require an MRI scan to confirm the diagnosis. These findings are readily identifiable on MRI scans and Modic changes types 1,2,& 3 can be quite easily "interpreted" by an experienced radiologist.  Modic type 1 changes are strongly related to pain while Modic changes type 2 are slightly less correlated to pain. Modic changes type 3 are not correlated to pain at all.
Examples are shown below.
The first images illustrate Modic type 1 changes on two different MRI scan settings.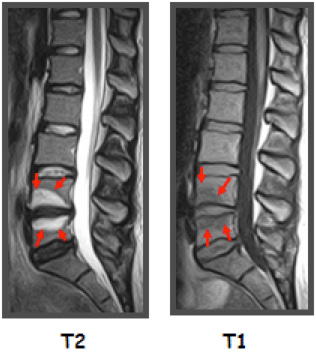 Examples of Modic type 2 changes on 2 different MRI scan settings.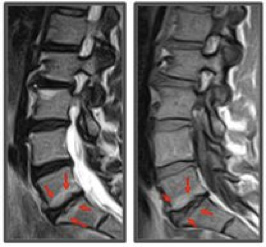 Examples of Modic type 3 changes.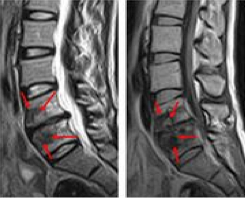 Conclusion
Determining whether a patient's symptoms are related to Modic changes involves a 3 step process – each with their own characteristic findings. One size fits all treatments have become a thing of the past.
Dr Alan Jordan, Chiropractor, Phd
Director, Broadgate Spine Centre
Board Member, MAST Medical Academy